Data Import
For Intuit ProSeries Tax and Intuit Lacerte Tax
Automatically import data from your clients' W-2 providers, banks, and brokerage accounts into their 1040 returns.
Tax scan and import
Import data from PDF tax documents (scanned or digital).
How it works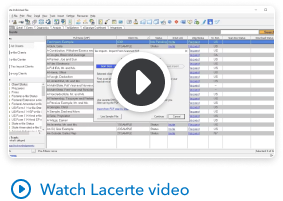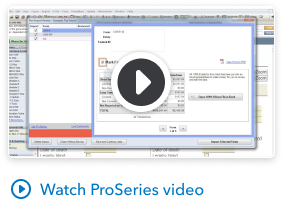 Productivity features
Data import from scanned source documents in just a few clicks.
Scan documents without leaving your Intuit tax software or Document Management System.
Form reviewer tools for checking and editing data before importing into the tax return.
Dual optical character readers for optimal results.
Data transmission using 128-bit encryption—data never leaves US and involves no human intervention.1
Use of bookmarked and highlighted PDFs of scanned source documents to verify source of scanned data.
Supports the following forms and schedules:

W-2
W-2G
1098-Mortgage
1099-B
1099-G
1099-DIV
1099-INT
1099-R
1099-SSA
Schedule K (1065)
Schedule K (1120-S)
Schedule K (1041)
Consolidated brokerage statements
For more information, call 833-630-6963 for Lacerte software and 800-934-1040 for ProSeries software.
Financial Institution Download
Import data directly from financial institutions and payroll providers.
How it works
Productivity features
Directly download your clients' 1098/1099 and W-2 data from financial institutions and payroll providers.
Get access to data from more than 275 financial institutions.
Intuit leverages patented technology designed to securely and reliably transmit data.
Clients can quickly and easily give you access by way of a website, without Intuit storing clients' usernames or passwords.
Downloaded results are usually returned in 20 minutes or less.
We support more than 275 financial institutions, including:
Bank of America
Charles Schwab
E*Trade
Merrill Lynch
Morgan Stanley
TD Ameritrade
UBS
Vanguard Group
Wells Fargo
Included with your Fast Path license
Additional professional tax software integrations
Extend the functionality of your professional tax preparation software with these time-saving tools.
Intuit Tax Advisor
Available for:

ProConnect
Lacerte
The only integrated tax advisory tool where you can access a library of tax strategies to build custom tax plans in minutes, not hours.
Hosting
Available for:

Lacerte
ProSeries
Work-from-anywhere capabilities mirror your desktop setup for a seamless integrated workflow. Plus, attract top talent with remote access.
eSignature
Available for:

ProConnect
Lacerte
ProSeries
Digital signing solution where you can manage signatures right within your tax software, and clients can sign whenever and wherever they want.